After the earthquakes in Kahramanmaraş on February 6, 520 students prepared for the university exam on the ship that anchored in the port on April 10 for LGS and YKS students.
The students tried to get a good score in the exam with the support of volunteer teachers on the ship, where all kinds of facilities from accommodation to classrooms were provided.
In the "floating school", 350 of the 520 students who were preparing for the university exam, away from the effects of the earthquake, were placed in undergraduate and associate degree programs.
Karadeniz Lifeship Rauf Bey Academy Support and Placement Course Center Education Coordination Manager Zeynep Şahin said that they hosted nearly 1200 students preparing for the LGS and YKS exams on board.
Stating that there was a large group of people who stayed on the ship and achieved success in LGS and YKS, Şahin said, "More than two-thirds of our children entered the high schools that entered the exam. When I evaluate it as YKS, our highest score is 540's, a score close to the full score. Here we need to talk about the students who were placed in any university. So we are happy too." he said.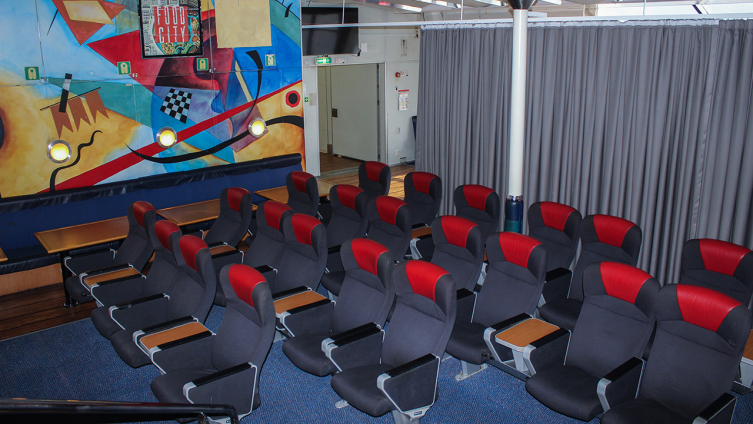 "The ship was a good training nest"
Mehmet Ali Çelik, who stayed on board for 1.5 months, said that he prepared well for the exam with the opportunities offered and that he won the Department of Aerospace Engineering at Middle East Technical University (METU).
Explaining that he worked regularly for the exam until the earthquake, Çelik said:
"After the earthquake, we stayed in the car for a while, then with our relatives in another city. Later, we returned to Iskenderun to have our house built with my father. During that process, I learned that there was a ship and I applied. I trained on the ship for 1.5 months, I participated in studies. All the facilities on the ship were studied and It was designed for the person who wants to achieve something. We came out of the process successfully."
Sude Akbaş, who won Aydın Adnan Menderes University Faculty of Medicine with the score she got from YKS, said that they stayed in a tent for a while after the earthquake.
Akbaş said, "The ship is very beautiful both in appearance and in terms of comfort. It was a great opportunity. It was a great opportunity. There were three meals a day, a bed and areas to study, practice exams, everything that could happen for education," Akbaş said. used the phrase.
Mehmet Ali Gül, who explained that he won the Ege University Faculty of Dentistry by preparing for the exam in a beautiful environment on the ship, said, "The ship was a nice education home. It made us feel like we were in our normal school or classroom. We really became a big family here in a short time and we successfully survived this process." said.
Meryem Ece Eraksay, who settled in İnönü University Faculty of Law, said that they had a difficult time after the earthquakes.
Stating that he could not study for the exam as efficiently as before, Eraksay said, "At that time, nobody was in a position to think about the exam. It was good for us to provide a safe environment. Study hours and studies were very productive here. We did our best. You succeed. So when you work, there is nothing that cannot be done." made its assessment.