In Hatay, where earthquakes caused great destruction, face-to-face education continues in 296 schools in the districts of Arsuz, Altınözü, Dörtyol, Erzin, Reyhanlı, Payas and Yayladağı, where it was decided to start education gradually on March 27.
Nevşehir Primary School, which was established from containers in a tent city in Orhanlı Mahallesi in Defne district, where schools have not yet opened, ensures that students in the disaster area continue their education and training life.
In the school, where Nevşehir Provincial Directorate of National Education has created 4 classrooms with boards and desks, 350 students attend the classes.
30 teachers volunteer at the school, where activities including psychosocial support are organized to erase the traces left by the earthquake on children.
In the region, secondary and high school students are also given education in tents.

"We knew something would grow from under the rubble"
Ali Arslan, the deputy principal responsible for the coordination of Nevşehir Primary School, said that they initially provided boards and desks from schools in Hatay to start the education process in Defne.
Explaining that the students returned to their education life thanks to the container school created by the Nevşehir Provincial Directorate of National Education by dividing them into classes, Arslan said:
"The sparkle in the eyes of the children motivates us. We knew that something would grow from under the rubble. We continue to carry out this process with our volunteer teachers who come from almost all over Turkey, day and night."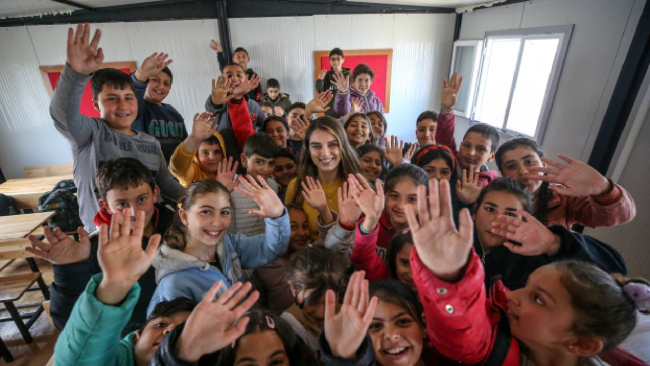 "Everyone who heard flocked in one way or another"
Stating that there is great interest in school records, Arslan concluded his words as follows:
"At first, we tried to reach those who stayed in the tent city, but we had to think about the children outside the tents in a period when there was no education and training. Right now, we have too many students from outside the tent city. 70 percent of our students come from far away. Everyone who heard flocked to them in one way or another. The authorities are providing all the necessary support."