Disaster survivor students, who had to take a break from their education due to the earthquake in Kahramanmaraş on February 6, continue their education in various schools in Erzurum.
In the In-Service Training Institute, one of the institutions where earthquake survivors were accommodated, classrooms like private schools were created for disaster-affected students.
Children continue their lessons with their teachers assigned by the Provincial Directorate of National Education in the classrooms here.
[Fotoğraf: AA]
Students staying with their families in the institute, which includes a social market, canteen, sitting rooms, oriental corner and special playgrounds for children, are trying to get away from the effects of the earthquake.
Institute Director Fatih Aydın said that after the earthquakes, they quickly made the institute ready for earthquake victims.

"We are experienced because training and seminars are given in our institution"
Stating that they work under the coordination of the Governor's Office and AFAD for earthquake victims, Aydın said, "Teachers working in the Ministry of National Education are given training and seminars in our institution. We are experienced in this matter. Therefore, we took our precautions from the first day. In the Van earthquake that took place in 2011, we hosted 800 people here for 10 months. With our experience, we started to host the current earthquake victims as well." said.
Aydın stated that teachers working in the Provincial Directorate of National Education give lessons and that they give lessons for kindergarten, 1st, 2nd, 3rd and 4th grade students.
Explaining that secondary and high school students are also transported to the nearest schools by bus, Aydın said:
"Here, we give lessons to 36 primary school students in our institution. Of course, this number is increasing every day. Although our capacity is 600, 313 earthquake victims are accommodated. When our capacity is full, this number will increase at the same rate. We make every effort to ensure that education is not interrupted here. We do our best to keep our children from their families, morning and afternoon. "We do our best to help them get through this process by having a good time during the day, with dinners and social activities. Our earthquake survivors here are a little more fortunate. They have all kinds of opportunities. They offer 24-hour service from internet to hot water, including the rooms they sleep in."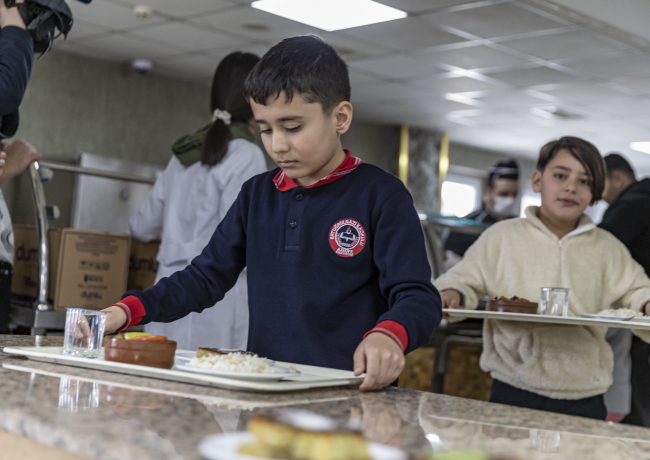 [Fotoğraf: AA]

"The important thing is to gain them confidence"
Class teacher Gizem Aydın stated that earthquake victims have a one-week training period to make up for.
Stating that they have a long period ahead of them and they will make up for the missing lessons in this process, Aydın said, "There is no problem with our children, they are fine. The important thing here is to give them confidence. We are conducting a process by talking with love and getting support from their families."
Umut Yusuf Özbilgic, a 4th grade student from Adıyaman, said that the officials take care of them like their children, and said, "Thanks to the school here, we do not fall behind in our lessons. May Allah be pleased with them all. They do not make us look for a home environment."
Elif Naz Kaplan, a 4th grade student who came from Kahramanmaraş with her family, said that they both continued their education and made new friends without leaving their families.