Istanbul Airport Vocational and Technical Anatolian High School was opened in the 2021-2022 academic year. Vocational and technical education cooperation signed between Istanbul Provincial Directorate of National Education, İGA Airport Management Inc., Turkish Airlines Technical Inc., Yıldız Technical University and Hasan Kalyoncu University, the school, which is the first and only civilian vocational high school in the world in the airport campus. He started training within the framework of the protocol.
The high school, which is a project public school, accepts students with the LGS exam. Currently, a total of 60 students, 9 of whom are girls, are studying at the school. Besides Istanbul, there are also students from different provinces. The school has a 5-year education curriculum, with the first year being English preparatory.
This feature of the school, located within the Istanbul Airport campus, which was built on an area of ​​76.5 million square meters, is actually the biggest advantage of the students. We talked to the school principal Talha Bektaş about the details of this advantage and the value it adds to students' lives.

"Students enjoy the advantage of being on the airport campus"
School Principal Talha Bektaş begins by emphasizing that they provide education in the same campus as industry professionals. "The most important advantage of our school for students is that they receive their aviation education at the heart of aviation," he says.
He says that being together with aviation employees is both a source of motivation for students and contributes positively to their future visions. It is worth noting that this close communication can be a career opportunity in the future.
Aircraft technician training is given at the school. Education in high school is the kind that will shape the future of students.
"Students who grow up in this field can work in a technical maintenance company after their graduation, or they can continue their higher education in aircraft engineering or other sub-engineering branches of aviation."
Talha Bektaş lists other options that students may encounter:
"With the education they will receive in the field of aircraft maintenance, students can easily continue their higher education programs such as aircraft engineering, electronic engineering, communication engineering, mechatronics, mechanical materials engineering, physics, aviation and space sciences, astronomy."
Bektaş states that some of their training is carried out in THY hangars. In addition, THY Teknik A.Ş. He adds that his employees also give various trainings at the school from time to time.


Can students become pilots?
When it comes to an aviation school in the airport campus, the first thing that comes to mind is "How about pilot training?" comes the question. Bektaş laughs, saying that he often encounters this question. He shares the details of the issue by stating that there is no high school piloting training in Turkey:
"There is no high school piloting training in Turkey, but students who want to take pilot training in the following years will be two steps ahead in piloting training with the engineering and technical skills they will learn from here if they complete the aircraft maintenance field."

First year English education is given
As it is known, the common language of the aviation industry is English. For this reason, students are given comprehensive English education throughout the year in their first year. Bektaş explains that this training is also the responsibility of the professionals.
One of the protocol partners, Yıldız Technical University School of Foreign Languages ​​contributes to the preparatory class curriculum. On-duty teachers provide counseling, and from time to time, students go to the university campus and attend some trainings. In addition, YTU's support continues after high school graduation:
"It is a signed situation in the protocol that our students will be awarded a scholarship for 4 years if they graduate from Yıldız Technical University Aviation Electronics."


How is transportation to school provided?
Let's also inform those who are thinking about the school in the Istanbul Airport campus but have question marks about transportation. School Principal Talha Bektaş lists transportation and accommodation opportunities as follows:
"There is a metro stop close to here. At the same time, our parents and students can reach here by ring from the Istanbul Airport terminal. For our students coming from Istanbul, Istanbul Airport operator IGA A.Ş. It provides free transportation support to our students. We also have a hostel for our students coming from out of town. We can host both male and female students in our hostel."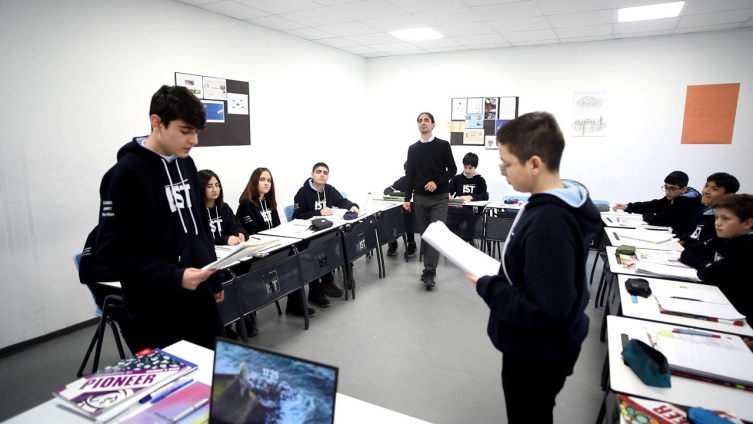 The common dream of students is to become an aeronautical engineer.
After getting general information about the school, we want to listen to the students. We are talking with Erva Çakır, a 14-year-old 9th grader, one of the first students of the school. She tells that she has participated in many software, robot and talent projects since her first year. He describes his dream of the future with the words "While I studied at the high school on the Istanbul Airport campus, I see myself as an aircraft engineer at Istanbul Airport in the future".
Osman Can Çıdamal, 14, is in the preparatory class. He mentions that he has always had an interest in aviation, and that he participated in the trainings organized by THY. Studying at an aviation-related high school is a step towards achieving her dreams. Osman Can is also currently running a rocket project. It aims to achieve success in the low altitude category at Teknofest. He wants to be an aeronautical engineer or pilot in the future.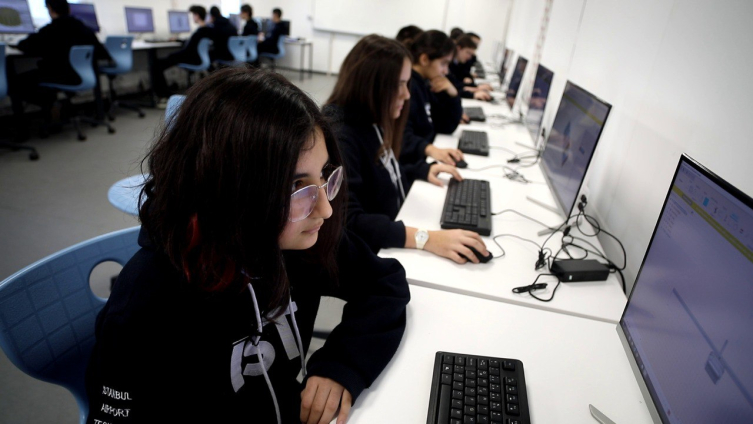 14-year-old Mina Şen is also in the preparatory class. "When I saw this school during the preference period, I said 'I should study at this school'. Because these were my goals, my dreams. I want to be an aeronautical engineer in the future," she says. Although She is currently studying English, she is working on a UAV project that can view post-earthquake debris to attend Teknofest with her team.
Another student who dreams of becoming an aeronautical engineer is 15-year-old Yağız Taha Arpa. Yağız Taha, a 9th grade student, realized his passion for aviation and moved from another high school especially to this school. The electrical circuit analysis workshop, aircraft maintenance and hardware workshop courses are the courses that interest him the most. He is very pleased to be at the airport campus. "Everyone gets to know us here. "I think we can find a job easily," he says.
Camera: Serhan Sevin
Editing: Cihan Karaahmetoglu