Ekin Özgür Gençer Yılmazer, the director of the pilot school TOKİ Şehit Hakan Can Kindergarten, said that the program was started with the aim of introducing the importance of healthy nutrition and physical activity habits in schools.
Yılmazer said, "Within the scope of the program, we aim to raise this awareness in our children from an early age. There is a digital education portal about this program. Here, videos containing digital information are created separately for students and teachers, and we benefit from them." said.
Yılmazer informed that teachers benefit from the Teacher Information Network (ÖBA) and Education Information Network (EBA) platforms while working on the program.

"No leftovers are thrown from our kitchen"
Stating that the staff working in the cafeteria at their school has all the necessary documents on hygiene and health, Yılmazer said, "Our meals are prepared by our own cooks and cooks' assistants, and no leftovers from our kitchen are thrown away. We collect raw and cooked food scraps and take them to the compost area in our school. We turn it into fertilizer in the field and we use the fertilizer that comes out of it in our agricultural garden." he said.
Yılmazer stated that the sample menus determined by the dieticians working in the district national education directorates within the scope of the I Eat Healthy in My School Program were sent to them in an official letter, and that they acted accordingly when creating the menus they presented to their students.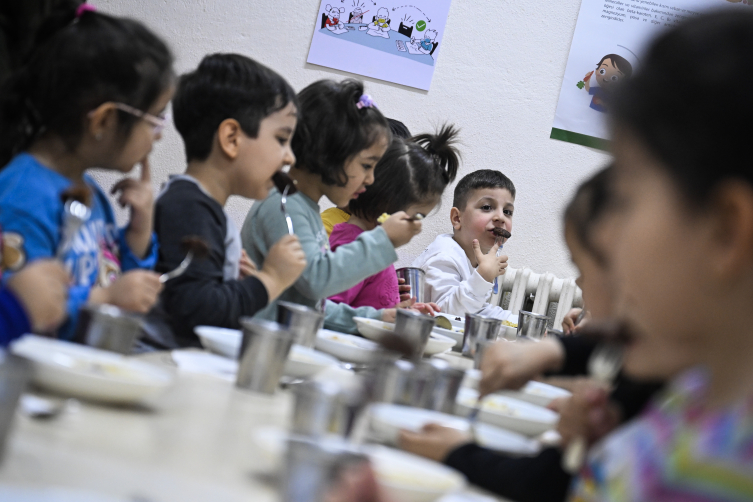 To be implemented in 1320 pilot schools
With the program, it is aimed to increase students' awareness of healthy eating habits, food safety, security and quality and to encourage them to physical activity. Students are guided for a healthy life by planning activities in school gardens and corridors and preparing a physical fitness report.
Thanks to the program, which includes nutrition menus and calendar, nutrition in special cases, institutional standardization and certification studies, the spread of healthy eating culture to the society is accelerated through education.
Within the scope of the program, 360 thousand 708 students and 36 thousand 40 teachers are planned to receive training in 1320 pilot schools until the end of the 2022-2023 academic year.